To whom will ignore your email: David Tisch on communicating with potential investors
My blog post for the NYU Entrepreneurs Network blog about David Tisch's talk for the NYU Entrepreneurs Speaker Series.
On January 26thDavid Tisch, the Managing Director of TechStars New York, kicked of the NYU Entrepreneurs Network Speaker Series with a talk formally titled "How to Talk to Your Investors" and informally titled by David "How to Stop Sucking at Email".
David, who has invested in over 90 companies through TechStars and personally through The Box Group, such as GroupMe, Fab.com,  Flavors.me, Dispatch, numberFire, and Nestio, was his usual no B.S. and funny self.  He offered innumerable highly practical tips about raising money, communicating with potential investors, and even some tips on managing your own inbox (he gets to between 400-800 emails per day…).
David kicked off the presentation by relating the skills and techniques required to communicate effectively with investors as being very similar to those required to communicate well with potential customers.  I could not agree more. 
First and foremost David discussed knowing your audience.  Most investors make volumes of blog posts, interviews, and other information available online, and they expect you to read it.  As an example, if you are meeting with Fred Wilson and you haven't read AVC, you are literally crazy.  (Side note: you're crazy if you're starting a tech company and you aren't reading AVC regardless of whether or not you have a meeting with Fred).
Next David discussed some email etiquette.  His suggestions weren't just his preferences— they were based on a survey that asked investors their email pet peeves.  Some of the key tips he offered were to send emails of no more than 3-4 sentences (don't go all Tolstoy-esque), make your emails searchable by putting your company name in the subject and including other relevant key words, put attachments in nice formats like PDF and describe the document in the file name (e.g., "sick.ly demo 1.27.2012" "pay.me investor deck 1.27.12"), respond quickly, over-CC, don't under-CC, and don't ask open ended questions.  The big takeaway: make life easy for investors and don't create more work for them.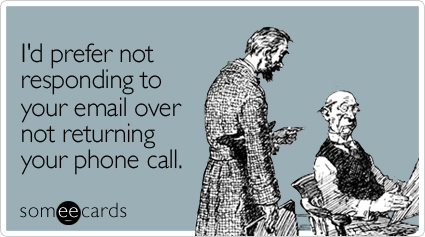 Specific to cold-emailing, David suggested you should try to avoid it.  Get an introduction to someone you really want to invest in your business.  If you don't know anyone in common, work to develop those relationships over time.  However, make sure you're getting an introduction from someone that actually knows the investor (and the investor actually likes and trusts!).  If you get introduced to David by someone he doesn't know or like, you are primed to be a use case for his Boomerang plug-in (he will respond right away, but it won't get sent for a week, freakin brilliant).
If you must resort to cold-emailing, again, do your homework and personalize it in some way.  For example: "Hey David, What do you think of the Giants chances in the big game? (Side note: don't actually use the phrase "big game").  Next, make the email extremely concise – like 3 sentences.  Lastly, send it at a time when an investor might notice it.  David personally thinks Sunday night, the rudest time for "normals", is actually the best time to reach a VC because they're cleaning their inbox before the next week.  Outside of Sunday night, Tuesday is a decent bet.   
Once you get a meeting and a chance to pitch your firm, David emphasized that you should not sell your company by selling.  Sell your company by being good.  Don't focus on the features of your product, focus on the benefits.  For your deck, the following is a high-level outline of what you should have, although there is no single right format:
· Who you are
· What you're doing
· Why
· Where you're at
· Where you're going with it (and your $$ ask, though that might be different slide)
· Some market slide(s) with market size, total potential customers, competition
· Product (2-4 most important screen shots)
Other tips for the pitch are to not save the big reveal (if you have a rock-star team, make the team slide #1), don't outline the general market (e.g., "mobile") outline the addressable market, and mention the competition because if you say you don't have any it will ruin your credibility. 
Lastly, just remember the following chart from Mark Suster:
Each time an investor interacts with you it is important to be more impressive than the previous interaction – that's how you get funded.  So do your homework, be meticulous in your communications and interactions, and make progress. 
In all, it was a great talk as usual with a ton of extremely practical advice.
Ben Sesser, Stern MBA 2012
@bsesser